First Announcements for WinterStorm 2020
2020-01-31 12:01:00
This blog is made up of the string of Facebook posts from the 31st of January when we unveiled the line up.
As we have said in the past few days we are part announcing this morning with the full line up to follow in February. We hope it gives a flavour of what WinterStorm 2020 is going to be - we have five bands which won't be unveiled today but we think there's enough in here to start with!
As ever there's a bit of something in here; old, new, borrowed, blue and maybe some left field additions. We'll just do simple band reveals over the next hour and follow up over the coming days and weeks with biogs, videos interviews and more.
For me, and many others, it all kicked off forty years ago and 1980 is a very strong thread through the reveals today and to come. WinterStorm would not exist without the dual reference points of those gigs at the Ayr Pavilion and Glasgow Apollo - both gone but as long as WinterStorm has breath never forgotten
We hope that there's something in here for you and of course as soon as we can reveal the rest of top line acts next month we will.
Thanks for both your patience and support.
Starting with forty years on we're doing a wee interview with Tom Russell for the full reveal but we're also going to turn the tables on the man and get into his own fortieth anniversary memories as he started on radio in 1980! Great to have him back compering the main stage for the fifth year running.
And sticking with comperes we are equally delighted to be bringing back Pete K Mally back to host the Sessions Stage again. Great compere and delighted to have him and his humour and enthusiasm back again!
The South Beach Sessions Stage went up a notch last year with queues to get in for more than a few bands. We'll unveil some of the acts on the second stage later but we always promote at least a couple of bands from the Sessions Stage to the main and this year is no different.
They weren't the only bands deserving of this but we are delighted to welcome back Hollowstar and Gin Annie onto the main stage at WinterStorm 2020.
Both Gin Annie and Hollowstar have been getting rave reviews for their live performances and another one of the bands that are getting similar notices in the "New Wave of Classic Rock" circles are Collateral - these guys are we think a great addition to the line up and another example of what's good about live rock n roll these days!
As we mentioned already the South Beach Sessions Stage jumped up a few notches last year and it really became what we always wanted it to be which was a hot, sweaty, passionate little rock venue. During the day it has the most amazing views over the Firth of Clyde out to Arran and The Ailsa Craig but for three days last year it rocked solid!
We have made the decision this year to announce the core line up early rather than late in large part to allow bands to put tours together around the dates and get the logistics in place.
So here's the group unveil for The Sessions Stage at WinterStorm 2020.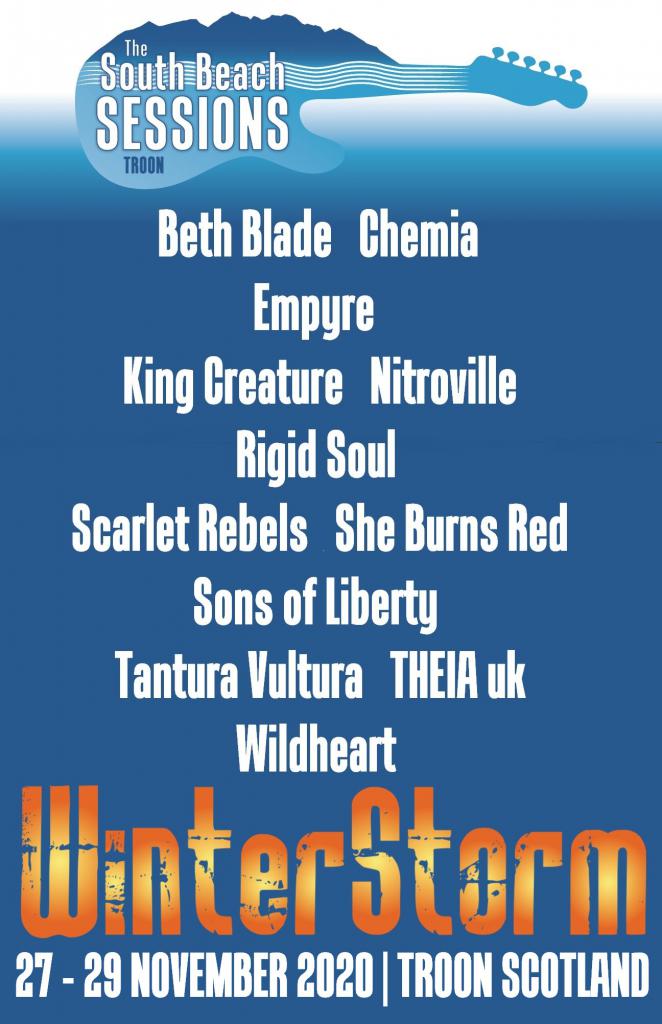 1980 has always been on our mind. It's been on our mind since we first kicked this adventure off in 2016. For so many of the Scots who attend the Ayr Pavilion and The Apollo were second homes in 1980 and for so many it provides great memories.
Praying Mantis were the first band booked for any WinterStorm; Tygers followed and since then we've had Rock Goddess, Girlschool, Quartz, Diamond Head, Oliver Dawson Saxon and a bit of Gillan from the much loved and missed Bernie Torme.
This year has that 80's thread running through it again and the February reveal will reinforce that further but for now it wouldn't be WinterStorm without a bit of NWOBHM now would it?
Yes it may be pure nostalgia but hell who cares...
Ladies and gentlemen please start a bit of headbanging for Vardis, Witchfynde and Weapon UK!
WinterStorm has been blessed with some outstanding performances and very often they've come from places that they were maybe not expected. 2019 saw maybe too many to mention but undoubtedly Those Damn Crows and H.E.A.T. captured attention of the unknowing and grabbed the audience by the proverbials.
The year before to would be easy to argue the case for these guys who just nailed their afternoon performance. In spite of tonight's proceedings we will continue to look east to Europe for bands for WinterStorm and we are delighted to have The New Roses back in Scotland in November.
(We would at this point have been unveiling at least one other European band but tour dates have held this back from now!)
We weren't sure we'd get this signed off today but we have and it's a great add to the mix - WinterStorm can always do with a bit good of the blues and we think you'll agree this is pretty classy!
Touching on 1980 again, Moody combined with Marsden to create some of the most memorable Apollo guitar performances that year and we're delighted to have Micky back in Scotland performing with the wonderful vocals of Ali Maas.
Ali Maas and Micky Moody (and band) add another dimension to an already eclectic weekend of rock.
We've always tried to mix things up a wee bit at WinterStorm and when we look back to the bands over the past couple of years we've maybe been light on some melodic rock. Debatable maybe but it's a comment that's been levelled at us.
It's never been far from the core of the event though and one of the things that we hope the fans like is the diversity of the line up and the chance to see bands that you may never have heard or seen or who don't get to these shores very often.
Having witnessed this lot steal the show at Frontiers in Italy last year we really wanted to see whether we could get them over form The States. The first line up included originally formed in 1991 consisted of five members, Johnny Gioeli, Joey Gioeli, Neal Schon, Todd Jensen and Deen Castronovo.
The current line up may have changed but the essence of the band has remained true and WinterStorm is going to be treated to a full on American rock n roll show from the superb Hardline
Okay, we're just about there for the first part of our WinterStorm 2020 reveal. We've got four real crackers still to release but for now this one is again just maybe a little left field again - and on this occasion we make no apologies for it!
One of those bands that would be probably best known for their mid 80's hit Don't Forget Me (When I'm Gone) but have produced so much more.
When we saw that Glass Tiger were in Europe playing in Germany this November we had to approach them. Definitely a departure but we believe a complementary departure and a set that fits in perfectly with the different genres around them.
Lead singer Alan Frew,
"Cliché as it sounds, you can take the lad out of Scotland but, " Ye cannae tak' Scotland oot o' the lad."

What a thrill to know that Glass Tiger is heading to the land of my childhood to perform in November. It's been long, LONG, overdue. What a truly heartfelt honour. I promise you, we will NOT disappoint. Hope to see you there!"
Pretty safe to say that Glass Tiger will be a first for almost the whole audience but we're sure they'll leave a mark and add a new dynamic to the Friday night.
That's just about it for now. We wanted to announce more but as we have said there are 300 days still to go so it's maybe a false target we set ourselves for the end of January but at least there is a feel for the 2020 event.
It's maybe more diverse than some years but we think WinterStorm has always pushed the envelope a little and taken some risks. Not every band will curry favour with everyone but again that's never what it's been about.
We have some crackers still to reveal too so we are far from finished.
We hope we've not disappointed to date and that once again you are looking forward to a weekend by the sea in November.
The last of the tickets have now been put on public release. WE have the remaining accommodation packages and 200 weekend tickets left available. This is ALL that remains for 2020 as the advance tickets sold out in December.
https://store.scotlandsforme.com/categories/winterstorm-2020