Home
As you can see from the leaflet we've put together the same mix of classic rock form over four decades - bit more NWOBHM with more than a tip of the hit to Reading Festivals of the eighties, some great AOR and Melodic rock and some of the best of the new rock bands around the UK. We also have a couple of surprises that we hope some of you will appreciate too!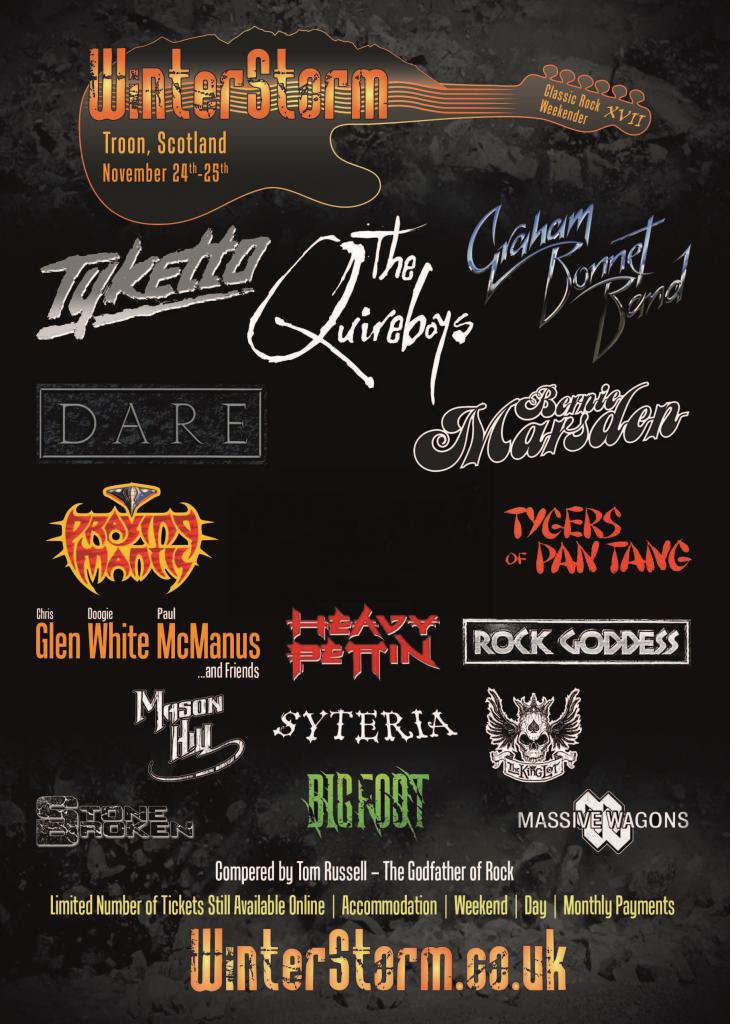 The full line up for WinterStorm XVIIis now up and online with the final tickets now on sale.
We have now updated the line up and it's pretty much complete so here's the line up - it is not in order of stage times they will be confirmed nearer the date
Friday 24th November 2017
Tyketto | Bernie Marsden Band | Praying Mantis | No Hot Ashes | Stone Broken | Syteria | Big Foot | plus Special Guests Heavy Pettin'
Saturday 25th November 2017
Quireboys | Graham Bonnet Band | DARE | Rock Goddess | Tygers of Pan Tang | Mason Hill | Massive Wagons | Anchor Lane | The King Lot plus Special Guests | Glen White McManus and Friends
Remember that the doors will be opening at just after lunchtime on Friday so book the day off and with the strength of depth right through the line up you won't want to miss a moment! We are scheduling more than sixteen bands over two days on the main stage and once again we'll have the acoustic chill out stage too an with a bit of luck some more surprises.
Buy Tickets and Accommodation Packages
Lots to be done and arranged but the journey towards WinterStorm XVII is well under way
Let the countdown continue...