Home
The full line up for WinterStorm XVII is getting close to fitting. Closer anyway!
Most of the line up is actually in place and tickets have been selling really well this far out with two Troon hotels now full and three others well on the way to putting up the No Vacancies sign too!
Day, weekend and child tickets are all still available at the launch prices and will be until the end of July at which point they will go up to the final price.
We've put together the same mix of classic rock form over four decades - bit more NWOBHM with more than a tip of the hit to Reading Festivals of the eighties, some great AOR and Melodic rock and some of the best of the new rock bands around the UK. We also have a couple of surprises that we hope some of you will appreciate too!
Remember this is not a festival with unlimited space - WinterStorm's charm is that it is bijou! Troon Concert Hall only holds 600+ and if we're being honest we'd just love to fill it to see what it feels like full!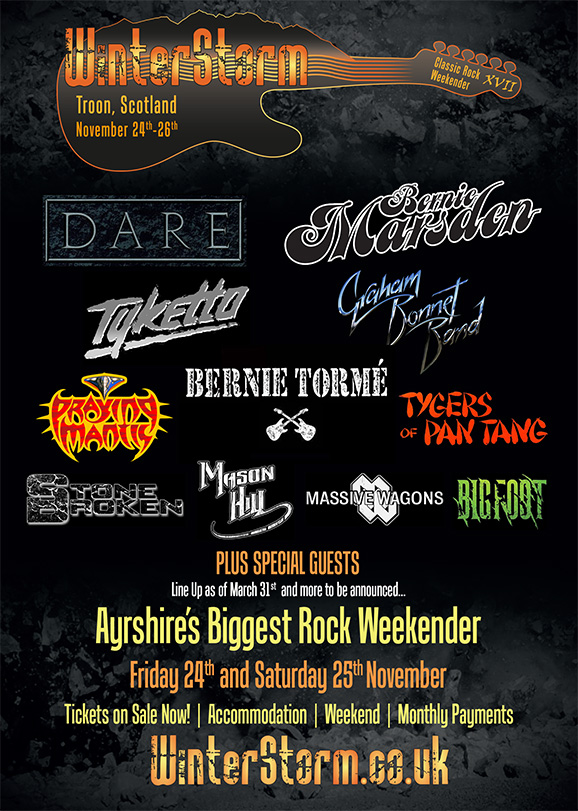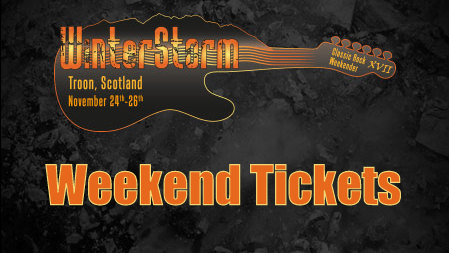 Buy Tickets and Accommodation Packages
We know that expectations are high and we hope we can get part way to meeting them as we announce the bands. You can read more here about the 2017 line up on the page below but we can let you know that we have Whitesnake legend Bernie Marsden on with his band; Graham Bonnet will be flying in with his band, Tyketto and Dare providing some classic AOR and melodic rock; NWOBHM is featured with the essence of the eighties with Mantis, Tygers and legendary Gillan guitarist Bernie Torme and the new bands are represented by the likes of Mason Hill, Bigfoot, Massive Wagons and Stone Broken.
Next update on bands is on the 28th of July.
Weekend tickets have already gone on sale to the previous ticket holders in March and again we also have the monthly Direct Debit option available to all from the beginning of April.
Questions about the third day have poured in... the Sunday is an add on with the aim that it will be a charity fundraising day with an afternoon into early evening line up. This will not be promoted til further down the line but at least you know the concept.
Lots to be done and arranged but the journey towards WinterStorm XVII has commenced.
Let the countdown continue...