Home
WinterStorm IS coming!
Okay we may still have some uncertainties regarding a few details but we push on regardless and will be filling out the details over the coming week.
Today's Date is September 19th and we do have a couple of changes to the line up that have been forced upon us this week; once we have the final details tied down and replacements contracted we'll publish on here, update our social media channels and of course email ticketholders directly - please ensure that you are checking your junk mail as it is one of the issues of using email marketing software that some mails do not get through filters.
Latest Guidelines and Restrictions
Although this is a moveable feast we are trying to keep on top of the controls as we understand them.
Refunds and Rollovers
We've spent the weekend processing all of the refund requests received and today, September 19th is the cut off day for these. This may sound a littler arbitrary but we must have a date and we don't beleive that we can be any fairer than we have been. Refunds and rollovers are not by any means an industry standard but we've never measured ourselves that way anyway. If you wish a refund please advise us toninght; rollovers are allowed until 26th September as the cut off.
Read More about Refunds and Rollovers
Tickets and Packages
Fortunately the number of refunds and rollovers has been relatively limited but not without substantial pain. It does mean that a few hotel rooms have come back available and we will be adding these live from Wednesday 22nd September. We do however need to sell the refunded tickets to cover what now is a considerable shortfall and if you can act as our street team we would be grateful. Now is not the team to keep WinterStorm as our wee secret!
The final WinterStorm weekend tickets are now available for purchase and day tickets will go on sale on Wednesday 22nd September. AS said above, and more than ever, we now need to sell the remaining tickets to cover the substantial costs of the past year and the lost revenues form refunds and rollovers; that's not a plea for charity but a request that you share the line up in your social media, with friends and if you can help us sell a few tickets we'll be grateful!
We understand the reticence of many, it's completely understandable but it appears that there is still a strong willingness for WinterStorm to happen that is for sure and we are planning to deliver on that desire we can assure you with every detail covered to keep you and yours safe throughout.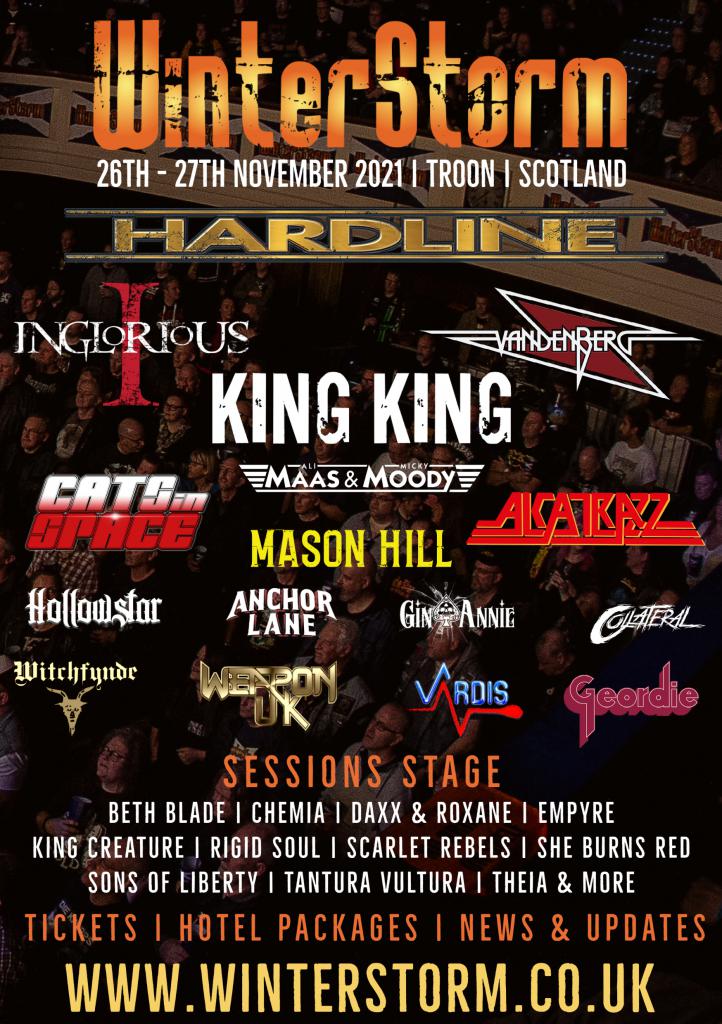 WinterStorm | The Story So Far Broadcast
One of the best ways to introduce the un initiated to WinterStorm is to let them see the three hour video we produced last year "WinterStorm | The Story So Far" - it is a superb mix of some of the live highlights from past WinterStorms and we are hoping to broadcast it in the next fortnight as an introduction and taster to WinterStorm.
Again, your help will be required in sharing the links and broadcast times to your contacts and fellow rock fans, Facebook groups and the like. Maybe we'll get the sold out stickers up yet!
The broadcast was produced in conjunction with The Max radio station in Glasgow and was introduced as ever by Tom Russell and it will be available on a "live broadcast" and then removed. Watch this space