Home
WinterStorm IS coming!
UPDATE 6th OCTOBER 2021
No point saying that it's been tough here. It's been tough for everyone and we're all looking forward to something to raise the spirits.
So we want to get the changes out of the road first - it's always difficult to announce cancellations and postponements to original line ups but that is the way that it is. So here we go....
Vandenberg have advised that they are cancelling all of their UK and European dates with the exception of Planet Rockstock and can't play WinterStorm.
NWOBHM has always been at the heart of WinterStorm since its inception; it is therefore really disappointing to lose Witchfynde and Vardis directly related to COVID and for the same reasons Micky Moody and Ali Maas will be postponing their first WinterStorm appearance too.
It's been a tough fortnight!
So the replacements; we are delighted and grateful to the band and management that, at short notice, GUN will be back on stage on the Friday night. They were superb at Stonedead in the summer and it will be an emotional return to a Scottish stage for this one.
We had already Geordie to the line up as we knew we were going to lose one on the NWOBHM bands and to compensate further we have added Girlschool to the Saturday.
The final add is a left field one but one of those that will surprise and delight with the superb Chantel McGregor playing on the Saturday.
WinterStorm 2020 had a direction and a feel and while we've had to make massive changes we feel that when we look at the line up for November 2021 we can't really complain at how it looks and feels. We know that you'll rock out all weekend anyway.
We'll feed more information including the line up for After the 'Storm over the coming days.
Thanks in advance for your patience and support.
Latest Guidelines and Restrictions
Although this is a moveable feast we are trying to keep on top of the controls as we understand them.
Refunds and Rollovers
The dates for both refunds and rollovers have now passed and we ask that you do not ask us for a refund at this stage as we will have to politley decline unless there is a change in Governement guidance.
Read More about Refunds and Rollovers
Tickets and Packages
Fortunately the number of refunds and rollovers has been relatively limited but not without substantial pain. It does mean that a few hotel rooms have come back available and these are now selling quite quickly. We do however need to sell the refunded tickets to cover what now is a considerable shortfall and if you can act as our street team we would be grateful. Now is not the team to keep WinterStorm as our wee secret!
The final WinterStorm weekend tickets are now available for purchase and day tickets went on sale on Wednesday 22nd September. As said above, and more than ever, we now need to sell the remaining tickets to cover the substantial costs of the past year and the lost revenues form refunds and rollovers; that's not a plea for charity but a request that you share the line up in your social media, with friends and if you can help us sell a few tickets we'll be grateful!
We understand the reticence of many, it's completely understandable but it appears that there is still a strong willingness for WinterStorm to happen that is for sure and we are planning to deliver on that desire we can assure you with every detail covered to keep you and yours safe throughout.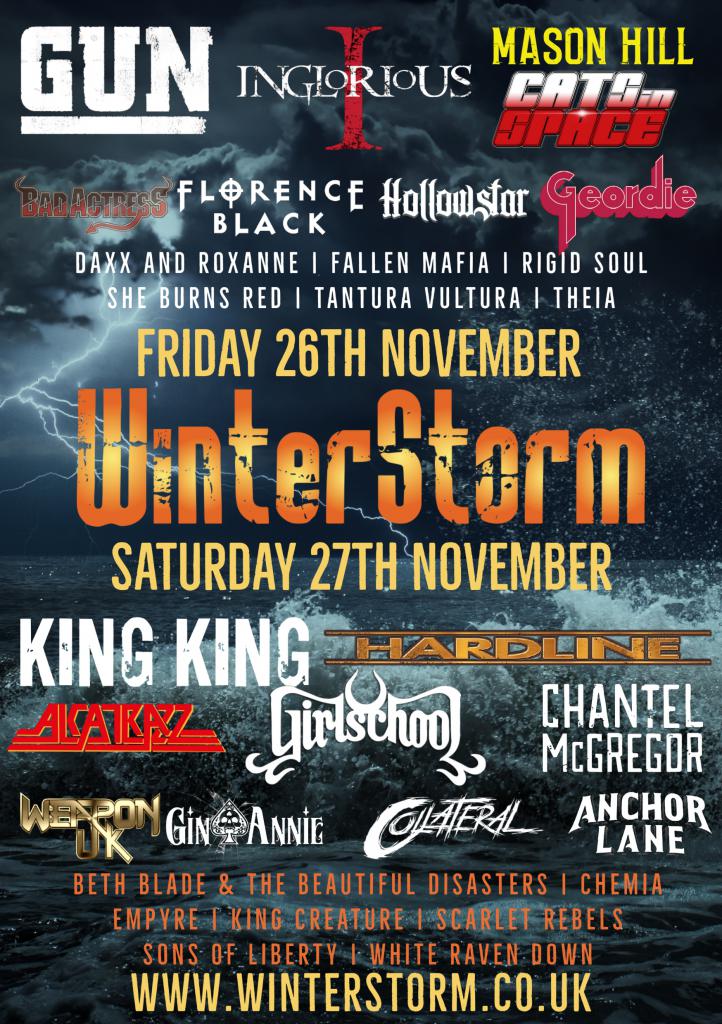 WinterStorm | The Story So Far Broadcast
One of the best ways to introduce the un initiated to WinterStorm is to let them see the three hour video we produced last year "WinterStorm | The Story So Far" - it is a superb mix of some of the live highlights from past WinterStorms and we are hoping to broadcast it in the next fortnight as an introduction and taster to WinterStorm.
Again, your help will be required in sharing the links and broadcast times to your contacts and fellow rock fans, Facebook groups and the like. Maybe we'll get the sold out stickers up yet!
The broadcast was produced in conjunction with The Max radio station in Glasgow and was introduced as ever by Tom Russell and it will be available on a "live broadcast" and then removed. Watch this space