Home
WinterStorm XIX is now very nearly fully formed - at least in the acts booked. The Main Stage is now complete with the exception of a StormBreaker band to be chosen at the event later in the summer. The South Beach Sessions room and Jagermeister Stage is almost complete now too.
The last of the tickets are available now
Friday
Main Stage
THE BRINK | OUTLAW ORCHESTRA | THOSE DAMN CROWS | PAT MCMANUS BAND | MYKE GRAY FT KIM JENNETT | PETE WAY BAND | DIAMOND HEAD | FM | SKID ROW
South Beach Sessions Room
TOI | DARKNESS DIVINE | ABLAZE | SWAMP BORN ASSASSINS | UPROAR | TOMORROW IS LOST | GIN ANNIE
Saturday
Main Stage
THE RISING SOULS | THE AMORETTES | SIN DOGS | TYGERS OF PANTANG | PRAYING MANTIS | ULI JON ROTH | HEAT | LAST IN LINE | GLEN WHITE MCMANUS
South Beach Sessions Room
IDESTROY | BALEFUL CREED | EVERYDAY HEROES | DEAD MAN'S WHISKEY | JOANOVARC | HOLLOWSTAR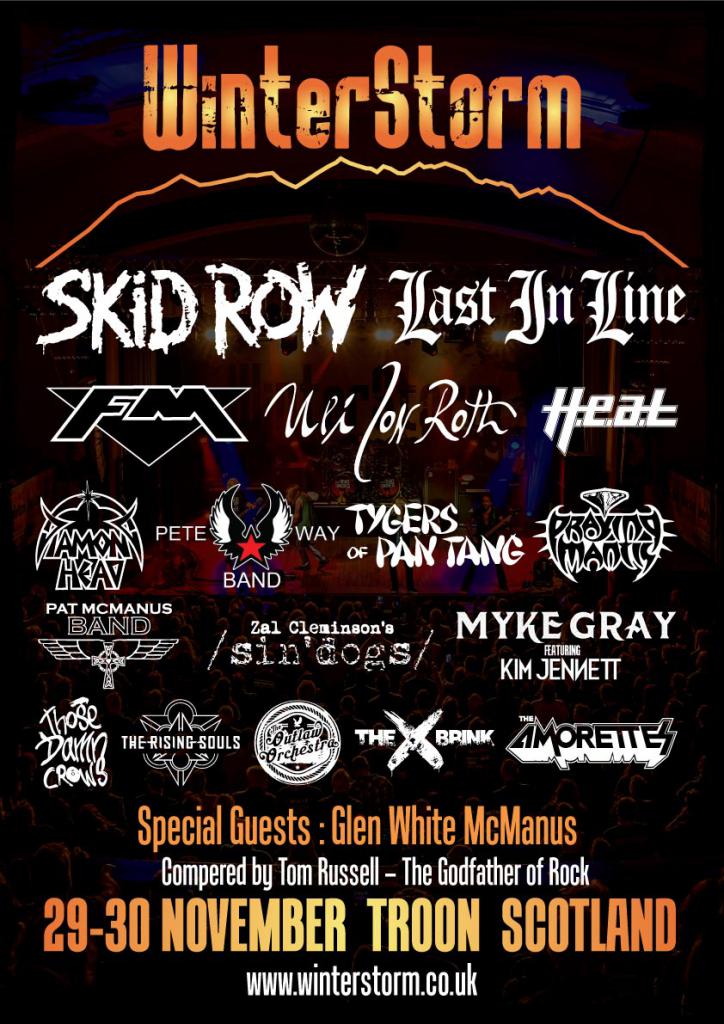 Remembering Bernie Torme
It was the defining moment of WinterStorm.
If there ever had been a higher reason for an event taking place it was on Saturday 24th of November. It was the the moment that Bernie Torme turned backstage from a standing ovation and a whole hall chanting his name. He just looked at me with a slow shaking of his head and tears running from his eyes. He didn't need to speak, his emotion told it all. It was a moment that took him by surprise; it was a reaction from an audience that he hadn't expected, perhaps he'd never expected to receive ever again. He came over and we hugged and we had a wee greet! I think I said something inane like "I'll never forget this moment Bernie"; if he replied I think he said something similar.
The genuine affection from the WinterStorm audience had an unseen impact on Bernie Torme and that reaction just summed the man up. He had just blown away a loving crowd with a virtuoso and powerful set, a set that by common consent was one of the lasting memories of thew weekend. We can count ourselves blessed that we saw Bernie Torme at his very best that day, that one last time we witnessed a guitarist at the peak of his playing.
We shared something special with Bernie Torme that day and I know that he took as much away from that afternoon as we all did. I will miss him so much.