Home
Mid July 2021 and we're still rewriting contingencies and plans for rollovers! That is not to say that is what we are expecting but the situation ensures that such planning for all eventualities is still necessary. To that end we have updated our plans and these are available in a few pages in the Thru the 'Storm link in the menu! The negativity stops there!
We are delighted to announce a couple of adds to the line up and we are back up to full main stage again with the StormBreaker winner still to be determined and a few acts to be added to the Sessions Stage.
The final WinterStorm weekend tickets are now available for purchase and day tickets will go on sale three months out as ever and even given the continued uncertainties we are delighted to have now sold nearly 800 tickets. More than ever we now need to sell the remaining tickets to cover the substantial costs of the past year; that's not a plea for charity but a request that you share the line up in your social media, with friends and if you can help us sell a few tickets we'll be grateful! We also still have a few hotel packages available as well but have now sold out a few of the hotels.
There is at least a strong willingness for WinterStorm - and live music in general - to return that is for sure and we are planning to deliver of that desire we can assure you!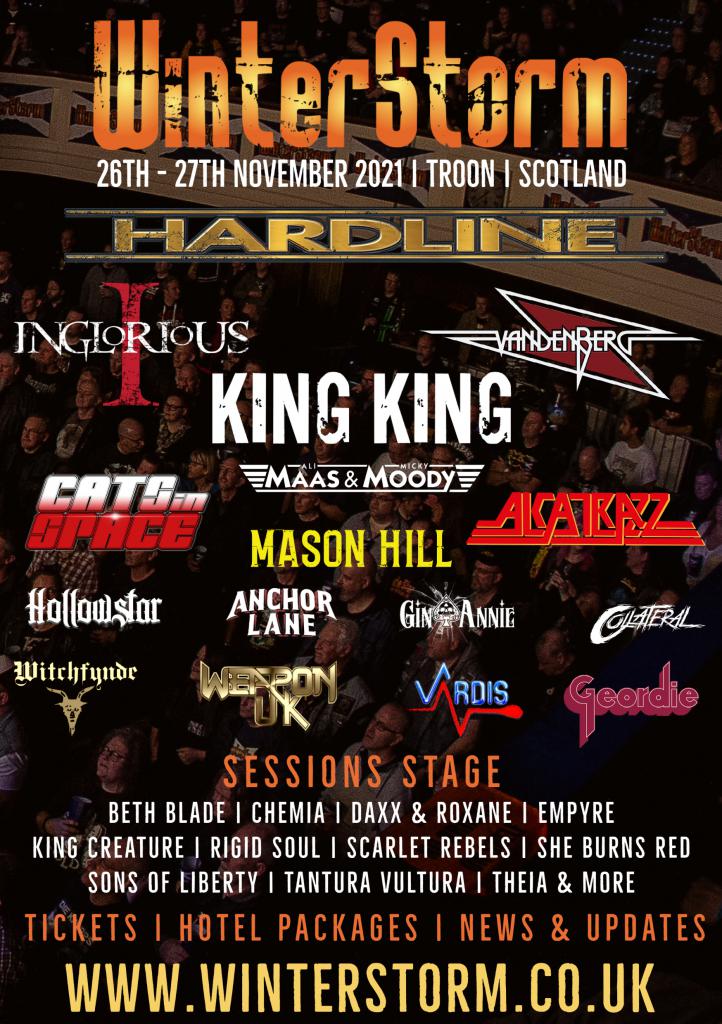 WinterStorm | The Story So Far Broadcast
If you haven't watched it already we would ask if you would consider supporting us by purchasing a pass for WinterStorm | The Story So Far - a superb three hour mix of some of the live highlights from past WinterStorms. It's still available to watch.
We're not looking for charity, we believe that it could be the best value £5 ticket for a virtual event you'll find and the response from those who joined us for the live broadcast backs that up. Please if you can buy one and share the link with rock friends - it has been a year entirely devoid of revenue and it will help - more below!
The broadcast was produced in conjunction with The Max radio station in Glasgow and will be hosted as ever by Tom Russell and we are only charging £5 for the show and it can be watched on demand. Our aim is to cover expenses but if we make anything it will go straight back into supporting WinterStorm and those who support us.
How to Order Your Access:
The broadcast is being hosted by The Max on their MyPlayer platform and you will need to set up your account and make your purchase using the link below. It takes two minutes.