VirtualStorm
More of a heads up than anything else as we are very much in the planning stage of the first, and we hope only, VirtualStorm.
The success of recent rock related live stream events has been impressive and whilst it was something that we approached bands about at the earliest stages of lock down we never managed to get things over the line in what became a very crowded online music market.
However this is our weekend and we want to ensure that whilst you may not be in Troon Concert Hall the essence of WinterStorm should be marked in some way or another.
WinterStorm | The Story So Far...
The weekend will be themed around the story so far. Four years ago this month WinterStorm was launched and we didn't have a clue what we were doing. Scary does not really begin to describe the feelings at the time and reaching the goal of WinterStorm V was NOT to the fore front of our minds!
WinterStorm 2020 was going to be a celebration of getting to Chapter Five - the live version may have been postponed but it doesn't mean we can't celebrate in absentia!
So "The Story So Far" will be celebrated virtually.
VirtualStorm
This will be our digital channel for the weekend and whilst at an early stage the weekend's live broadcast will comprise a mix of live and predominantly unseen footage from previous WinterStorm events, exclusive music from the acts who were scheduled for 2020 and if we can pull it off three of four live streamed sets from Troon Concert Hall itself.
We will crack on with this and announce plans once we have dealt with refunds and enquiries in the meantime if you have any requests or ideas join the discussion on WinterStorm's Facebook page.
The Story So Far...
It wouldn't be WinterStorm if we weren't trying to shove the "brand" down your throat and this weekend quite literally we'll be doing it again with mail order WinterStorm Pies and Beer as well as a "Story So Far band T-shirt too!
The Story So Far T Shirt
Available now for pre order through September (we'll confirm delivery dates in the next fortnight) the back of the black tour t-shirt features the logos of every band to have graced the main stage. An appropriate Gap Year purchase? We hope you think so. Usual screen printed quality shirt and price includes postage.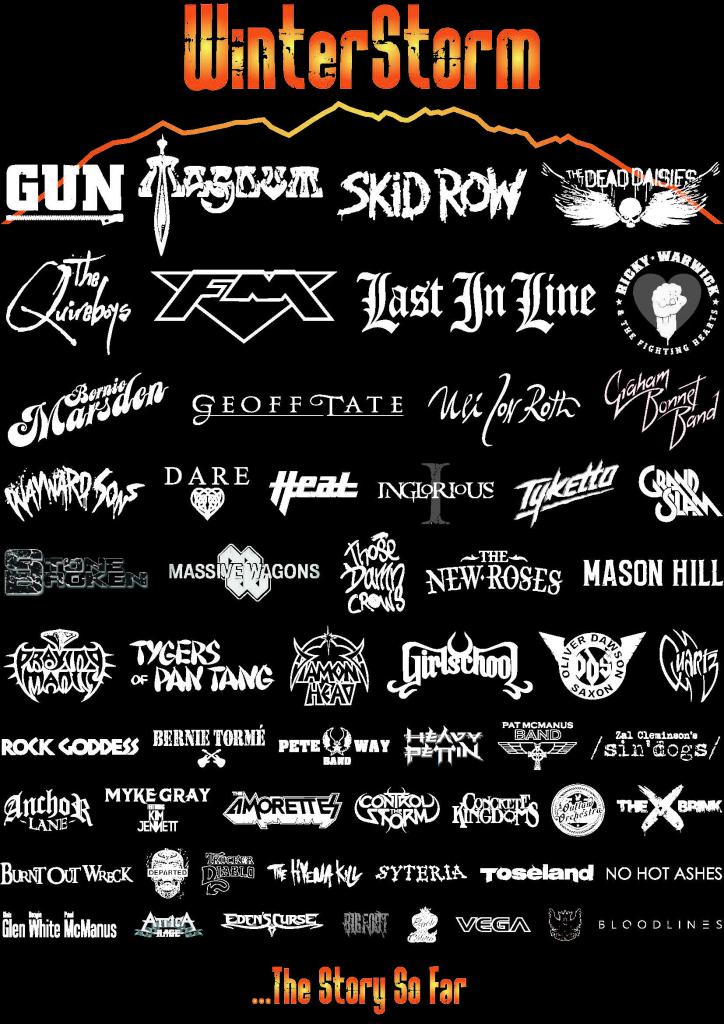 You can pre-order yours now at the store - orders close 14th September 2020
Pre Order The Story So Far T-Shirt